MakeSkyBlue MPPT Solar Charge Controller 30A 40A 45A 50A 60A 80A 100A 120A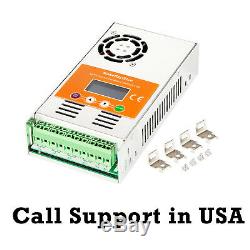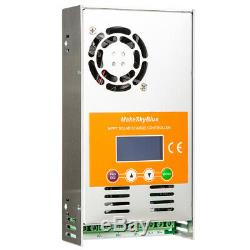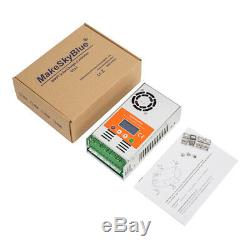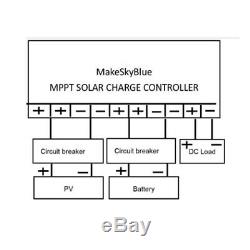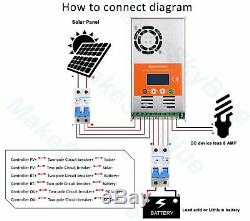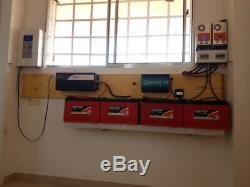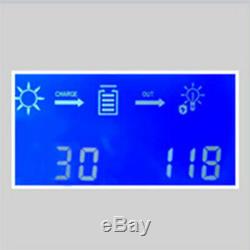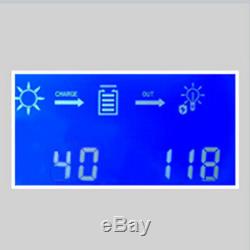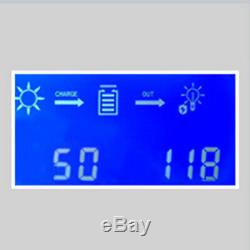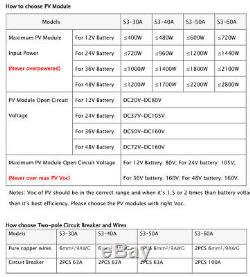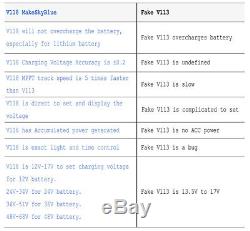 Continue our sales service from May 5, 2019. The US support team will help you with any issues. Intelligent Maximum Power Point Tracking technology.
Built-in DSP controller with high performance. Automatic battery voltage detection 12V/24V/36V/48V. Three-stage charging optimizes battery performance. Suitable for battery types such as sealed lead acid, vented Gel, LiFePo4 and Lithium battery`. Notes : The output terminal is for DC only (12V system less 60W, 24V/36V/48V system less 100W).
And it will be burnt if connecting to other loads. The output for battery is no polarity reverse protection. MPPT Maximum power point tracking automatically. Constant current (MPPT), constant voltage(Absorption Voltage), Floating charge stages. Dynamic response and recovery time.
(Voc is 1.5 or 2 times than battery, then its best efficiency). Make sure the Voc of PV meeting the requirement as right. Voc is 1.5 or 2 times than battery, then its best efficiency. The maximum PV input power. The total power rated of PV cant be over this watt that will break the controller.
Vented/ Sealed / Gel / NiCd / Lithium battery. (defined voltage for other battery by user).
For 12V battery, you could set the voltage from 12V-17V. For 24V battery, you could set the voltage from 24V-34V. For 36V battery, you could set the voltage from 36V-51V.
For 48V battery, you could set the voltage from 48V-68V. Refer to Batteries charging reference. Accord to EU standards, Industrial grade range.
Meet 2002/95/EC; No cadmium, hydrides and fluorides. 1 set of parts for shell mounted.
80A: You will get 2pcs 40A controllers and make them in parallel, then it's as 80A controller. You will get 2pcs 50A.
And make them in parallel, then it's as 100A controller. You will get 2pcs 60A. And make them in parallel, then it's as 120A controller. How to choose a correct controller for your system? Then your PV power can't be over 400W, and the Voc(Voltage of Open Circuit) can't be over 80V.
What's different between V118 and the fake V113? Please see below advanced function.
The advanced application for V118 30A, 40A, 50A and 60A. If you want to control a big current load such as 100A. You could use the OU terminals to control it as below pictures. (Figure 1)Using a relay to control a small current switch. To achieve an inverter switching machine.
(Figure 2)Use relay to control high current load input circuit-loop. The advanced application for V118 50A and 60A. If your load device is shorted or over-current.
The controller will have output short-circuit protection and close the output. When you disconnect the load and press ENT over 5 seconds.
Then output will turn on again. Please note the 30A and 40A don't have this function. When the lithium battery is being charged. If the BMS protection board is turned off. And the lithium battery is disconnected from the charging circuit.
The MPPT output to the battery voltage will not rise suddenly. And the controller doesn't cause the output voltage to overshoot. Through the BMS protection board. By the way, the V118 version for 30A-60A can be set the charging voltage.
From 12V to 17V and the fake products is from 13.5V to 17V. MakeSkyBlue Company provide after-sale serivce and. How to make these controllers in parallel?
For example, if you bought the 120A controller, then it's 2pcs 60A. And you could connect them to each PV array to same battery directly.
And no need extra device or settings. What information displays on the LCD?
PV voltage / Output power. Battery voltage / Charging current. How to choose lithium for solar controller? If Voltage from DC9V-DC15V, then as 12V styem.
12V system (DC9V-DC15V) 24V system (DC18V-DC29V). 36V system (DC30V-DC39V) 48V system (DC40VDC60V). Why there is no display when I connect the battery? Please choose right panels and battery, then connect all polarity correctly.
And confirm your battery is over 12V, then the controller can start up. How to set the parameter for lithium? Following the manual, just set the D04 to 01, then set the charging voltage.
How to install the solar system if I don't have experience? How to repair after 1 or 2 years?
Normally it works fine and if there is a problem. We'll provide spare parts for your repairing. In order to use our controller as long as possible. What's max wire size? You shall input 9awg / 6mm² for 30A and 40A.
6mm² for 50A and 60A. (Refer to the listing photo). What's the difference between version V119 and V118?
By UPS Ground, a round. We process and deliver the parcels from Monday to Saturday. Cancel an order because of. Immediately and we will cancel your order.
This is a very professional product and we recommend that you check and ask for more of this unit before placing your order. You send all the clear photos (LCD code that shows all our information) and. Our team is happy to resolve this issue at any time.
We hope you can give us feedback. The item "MakeSkyBlue MPPT Solar Charge Controller 30A 40A 45A 50A 60A 80A 100A 120A" is in sale since Monday, July 30, 2018. This item is in the category "Home & Garden\Home Improvement\Electrical Supplies\Alternative Energy Supplies\Alternative Energy Chargers & Inverters". The seller is "makeskyblue" and is located in Sallisaw, Oklahoma.
This item can be shipped to United States.
Color: Silver
Voltage Input: MAX 160VDC
Modified Item: No
Country/Region of Manufacture: China
MPN: 30A 40A 50A 60A 80A 100A 120A
Recommended Environment: Indoor
Custom Bundle: No
Protection Properties: Overcharge Protection
System Configuration: Off-Grid
Current Output: 30A 40A 45A 50A 60A
Brand: Makeskyblue
Power Source: Solar
Type: MPPT Charge Controller
Features: Verison V118

---