Davis Wireless Weather Station Vantage Vue Console 6351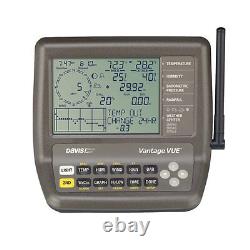 Davis Instruments Vantage Vue Wireless Console/Receiver Model: 6351 US/6351M. The compact console is loaded with features, including a backlit LCD screen and glow-in-the-dark keypad that makes viewing weather data easy, day or night. Unique Weather Center feature allows you to view multiple screens of weather data simply and quickly. This console can be used with new wireless weather station Vantage Vue 6250 or with Davis' flagship weather station Vantage Pro2 6152 or any other wireless Vantage Pro2. Use it as replacement of old console/receiver or use it as additional console to view weather data at some other location. Davis Vantage Vue or Davis Vantage Pro2 comes with Integrated Sensor Suite and Console. If you need a replacement console or want to view the data from different location then you can use this console.
You'll see current weather conditions, including indoor and outdoor temperature and humidity, barometric pressure, wind speed and direction, dew point and rainfall. You'll also get weather forecast icons, moon phase, sunrise/sunset times, graphing of weather trends, alarms and more. Console is available in US version (6351) and US Metric Version (6351M).
US Metric version displays weather data in Metric units. Please see below for the features of Davis Vantage Vue Console. TIME & DATE View the current time and date or time of sunrise/sunset. MOON PHASE See the eight phases of the moon from new to full.
FORECAST ICONS Icons let you know to expect sun, part sun, clouds, rain, or snow. TEMPERATURE & HUMIDITY Console updates outside temperature every 10 seconds and inside temperature every minute. In addition, outside humidity Updates every 50 seconds and inside humidity every minute. RETRANSMITS Main console can extend range to additional consoles up to 1,000 ft. BAROMETER Five-position trend arrow shows whether barometric pressure is rising, falling, or stable. VARIABLE DISPLAY OPTIONS See updated variables every 10 seconds for heat index and wind chill to get a better "feel" for the outside environment. RAIN Console updates rain totals and rain rate every 20 seconds for the last 25 hours, days, months. "CHANGE IN WEATHER SINCE YESTERDAY" FEATURE Allows comparisons of changes of temperature and barometric pressure from day to day. WEATHER CENTER Weather Center provides additional information for each weather variable, such as daily highs and lows, temperature changes by the hour and barometric value changes. Also displays astronomical data such as meteor showers. USER-FRIENDLY KEYPAD Domed buttons are easy to sense and press. Glow-in-the-dark keypad buttons give you access to weather information all day and all night. GRAPHS Graph the last 25 hours, days or months. View up to 50 graphs including temperature, rain, rain rate, wind and barometric pressureall on the console. "THIS TIME YESTER DAY" FEATURE Data point on the graph indicates the weather during the same time yesterday to help compare and analyze day-to-day weather trends.
ALARMS Set 22 simultaneous, different alarms to warn of dangers such as high winds, freezing temperatures, rain rate, flood warning, and more. WIND SPEED See windspeed updates every 2.5 seconds. Displays windspeed in miles per hour, meters per second, kilometers per hour and knots. Provides the average and high wind speed for two-minute and ten-minute intervals.
Vantage Vue is the latest addition to other weather stations available from Davis Instruments. You may need mounting pole or mounting tripod to install Integrated Sensor Suite for this weather station.
For further analysis of data or displaying data on your website, you can get WeatherLink software. Davis Instruments flagship weather station Vantage Pro2 comes in 6 different models, including model 6152 which is most popular model. Vantage Vue console and Sensor Suite works with Vantage Pro2.
A lot of options can be added to Vantage Pro2 to enhance its features. Here is the partial list of options. Special purpose sensors like leaf & soil moisture sensor, solar radiation sensor, UV Sensor, etc. Sensor mounting accessories (Pole, Shelf, Mounting Tripod, etc) - Additional console to get the weather report indoor or out. Repeaters to extend the range of wireless station. With these repeaters, range can be extended to few miles. WeatherLink software to analyze weather data, creating reports, graphs or charts, publishing weather reports on the web. We will able to help you decide which accessories you may require based on your need. If you need it, we can get it for you. We will be more than happy to answer any question or clarify any confusion you may have regarding our policies on Davis Instrument products. We are authorized dealer of Davis Instruments products and sell only new items.
We are happy to sell this weather station to international buyers. Please note that this model is designed to work in USA.
AC Adapter is 120 Volt and you may need new adapter if you don't want to run it solely on batteries. For Metric measurement, you will need 6351M model (US/Metric version). We will try our best to resolve the issue. We will do the same after receiving your feedback as soon as possible.
If your system doesn't allow to leave feedback first, please let us know and we will leave feedback to receive your feedback. The item "Davis Wireless Weather Station Vantage Vue Console 6351" is in sale since Saturday, July 9, 2011. This item is in the category "Home & Garden\Tools & Workshop Equipment\Measuring & Layout Tools\Weather Stations". The seller is "rjnetsale" and is located in Phoenixville, Pennsylvania.
This item can be shipped worldwide.
Type: Meters, Stations
MPN: 6351
Brand: Davis Instruments
Model: 6351
Sensors: Anemometer, Rain & Temeprarature

---